Last month, the fine folks at Cleckheaton sent over one of their beanie kits for review. After reading their story, I was pretty curious just how soft the yarn would be. It comes from specially selected sheep and is milled right there in Victoria. Australia's finest is right here in south Texas! I wondered if THIS would finally be the wool my kids would not complain about.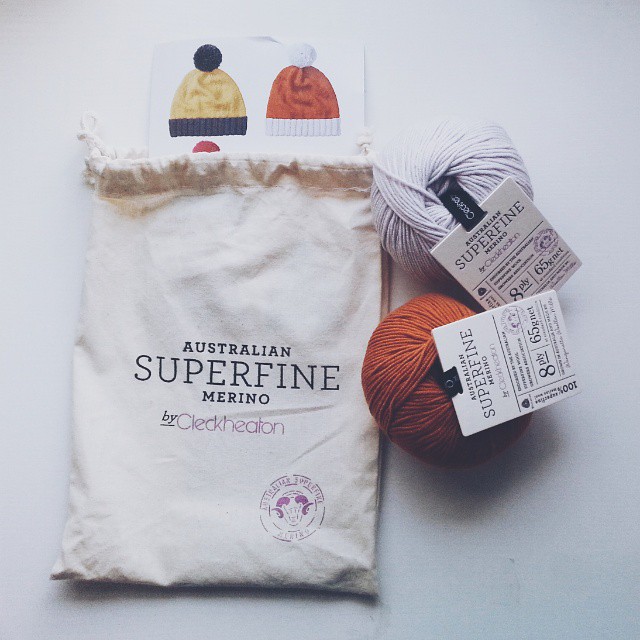 This photo is straight from my Instagram. I got so excited after it came that I took the photo and cast on immediately, without taking out my camera for a proper photo. The kit has two balls of Australian Superfine Merino and a two-colour beanie pattern, which you can find for free here, along with a good assortment of other patterns. Those baby sweaters are making me swoon! My cousins and sisters are refusing to procreate for me! I just want a baby to knit for, take photos of, cuddle, and send back. Is that too much to ask?*
Anyway…the colors are gorgeous! This gray is called "iceberg" and it is the perfect name. Icy cold with subtle hints of blue when you look at it a certain way. The orange is simply called "burnt orange" and it the warmest compliment to the gray. It's a deep, rich pumpkin color and makes me miss fall.
So, what was the verdict? VERRRRY SOFT! We like. I don't think he even knows it's wool. I generally shove beanies on my kids' heads and if they complain, I tell them to just deal with it until we get inside or get to the car. My youngest is the loudest complainer, but this guy tends to be more prone to allergy-like reactions. He's mildly allergic to cats (proven with an allergy test), so most animal fibers are just meh to him. He doesn't break out or have trouble breathing, thank God, but wool sweaters and hats aren't his favorites. He liked this one, though! It's got a good slouch and the pom pom is awesome.
The yarn definitely feels more silky smooth than other wools. It hasn't shed or pilled at all in the past week or so that we've had it in rotation. The pattern was great, though I adjusted it to work in the round. I could not see myself working that much stockinette stitch flat! Luckily, it was easy to adapt the crown decreases and whatnot. I had a good time mindless knitting that stockinette in the round. The kit comes in an itty bitty project bag that was great to tote the beanie-in-progress around. I knit in a taqueria!
I can really see myself using this yarn for other projects. There are so many colors to choose from! I want to get my hands on some of that mustard ASAP. Yellow is the color of my Spring and my heart is begging for a yellow lacey cardigan.
*My oldest turns TEN (10!) in exactly 3 months. I think he looks so grown up in that last photo! This has turned on something in my brain that makes me absolutely gooey over babies. Yes, I have the fever. The baby fever! If you have a baby and you see me, just let me carry them, ok? I'll smooch their wittle face and hand them right back. Or I'll put them in my knitting bag and take them home. I'm not 100% certain which flavor of baby-crazy I am, this week.
Click here if you want to try one of their Knit-it-Yourself beanie kits!
Pin It