I consider this to be a beginners color work pattern. Primarily because I still consider myself a beginner when it comes to color work. After reading and knitting the "Color Pattern Practice Hat" in Elizabeth Zimmermann's Knitting Workshop
over and over, I finally gave it a try and was hooked! I started jotting down simple designs to try and made several hats for my kids and just for practice.
One of the best tips Zimmermann gives in the book is to learn to knit with both hands. As a crocheter, I always held my yarn over my left hand. When I first learned to knit, I tried English knitting and it just did NOT make any sense whatsoever. I tried and failed to knit twice before switching to the Continental method. I have been knitting like that for the past 5 years. I never really attempted color work knitting because it felt cumbersome and my mind would go blank whenever I tried to knit with one color in my right hand. I just could not comprehend it! My hands had a mind of their own and my right hand just wouldn't wake up.
SO. I'm reading this pattern and decide I just need to get over it and learn English knitting once and for all. I spent an hour or two working stockinette in the round using my right hand to hold the yarn. The first few rounds were pretty torturous, but eventually, my hands woke up and I was able to throw my yarn!! It was very satisfying to FINALLY get it. I immediately cast-on the Color Pattern Practice Hat and it all worked out beautifully.
LEARN TO KNIT ENGLISH & CONTINENTAL!
That brings us to this "recipe" of sorts. I like to make beanies for my kids and husband and any other boys in my family, but I like to make slouches/berets for myself and other girls. I just like the looser fit on my hair and sometimes I like just shoving ALL my hair into it.
I came up with 4 different color work charts that will work with both a beanie and slouch/beret. Essentially, you can make 8 different hats using this one recipe. Both hats use the same yarn, needle, and gauge. You choose which you're going to make and follow that side of the pattern. Increases and crown decreases are different for each, but the charts work for both. You can easily make the hat slouchier (sometimes guys like a slouchy, but fitted beanie) by knitting more rounds after the charts.


Materials
About 100g (more if you're making your hat slouchier) worsted/aran weight wool
[this is a TOTAL amount. 3 of the charts look best with rows after the charts knit in the CC and the other looks best in the MC, so about 50g of each color should be suitable, but I advise having some extra on hand to be safe]
16″ 4mm (US 6) circular needle & DPNs
Sizes
[taken flat]
Beanie- 8.5″ tall x 9.25″ wide
Slouch/Beret- 9″ tall x 11.5″ wide
To fit average adult head. Make your hats slouchier by working more rounds after the charts!
Find the download on Ravelry or by clicking the image below. It's a one-page PDF and I recommend scaling to "Fit Printable Area" when/if you decide to print it.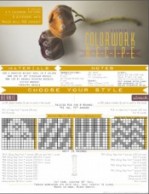 For personal use only. Please do not print and distribute it without my consent. You may share a link to this pattern page using any of my images above. Thank you!
This pattern is available for free. If you would like to contribute anything toward the cost of maintaining this blog, please feel free to use the donate button below. Every little bit counts. Thank you so much! Enjoy!