Hey there! I got locked out of my own darn dashboard and had to wait til my IT guy (aka husband) got around to resolving some server issues. All is well, so I'm here today to share my favorite (okay, ONLY) amigurumi of 2015.
He's a variation of the Bunny Egg Amigurumi I shared a few years ago. Those were cute as heck, but I saw MEGA Easter eggs at the store and KNEW I needed to crochet them into adorable little animals. A few days later, I had my first egg of lamb.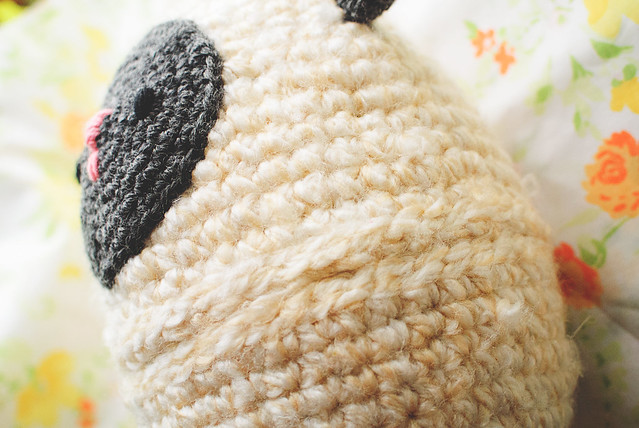 First off, I used thicker yarn and a larger hook. I suggest something more textured, like Lion Brand's Homespun Thick & Quick, or what I used: Loops & Threads Country Loom ("warm white" from Michael's). I used a 6 mm (US 10/J) hook. It's bigger than we normally use for amigurumi, but smaller than what is called for these yarns. You still want tighter stitches for the amigurumis! Less than one skein of Country Loom made the little lamb.
For the face and ears, I used a 4.5 mm (US 6/G) hook and worsted weight yarn from my scrap bucket, so I'm not sure the brand.
My egg is 8″ in diameter, so there were some adjustments to the pattern. Below, I have listed my stitch counts per round. My increases were made evenly, without joining, using a stitch marker to keep track. I suggest starting each piece with a magic loop.
EGG BOTTOM
Round 1: 6 SC
R 2: 12
R 3: 18
R 4: 24
R 5: 30
R 6: 30
R 7: 36
R 8: 42
R 9-12: 42
R 13: 48
R 14: 48
R 15: slst 48, fasten off and weave in ends.
EGG TOP
Round 1: 6 SC
R 2: 12
R 3: 18
R 4: 24
R 5: 24
R 6: 30
R 7-8: 30
R 9: 36
R 10: 42
R 11-13: 42
R 14: 48
R 15-16: 48
R 17: slst 48, fasten off and weave in ends.
LAMB EARS (make 2)
Round 1: 5 SC
R 2: 10
R 3: 15
R 4-9: 15, fasten off, leaving at least 18″ of tail. Flatten ear and fold bottom in half when sewing in place.
LAMB FACE
His little face is a simple circle made to 54 stitches. I started with 6 in a magic loop and increased by 6 for 9 rounds. I moved the increases around a bit, so it was more circular instead of a hexagon.
I stitched the face onto the circle, then sewed the circle and his ears onto the top piece before hot gluing it onto my egg. I lined up the top of my crochet piece with the top of the egg and glued it first. I then slowly added bits of glue down to the edge and firmly attached the crochet. Keep the egg pieces separate while gluing, so you don't accidentally glue them together! You wanna fill it with goodies, right?
You can fill your egg with yarn! Give it to a fellow yarny friend. You can also fit WHOLE candy bars into it, if that's your style. What would you put in yours??
P.S. The MEGA eggs come in three sizes, 8″, 12″, and 16″. I was curious to see what the 16″ looked like, so I made a mama:

It's cute, but it's difficult to open and close, so…pretty much useless. It works as a wonderful decoration, though! You could fit a lot of yarn in there, hmm?
Pin It