"If you make that stupid face too often, IT WILL STICK."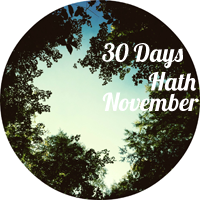 Oh, also. How dapper is my little fella? We went to a baby shower, yesterday. He was a charmer–blew raspberries on all the pretty ladies' faces.
p.s. I am accepting December sponsors! Goodknits has grown so much this month and I am happy to have the lovely blogs in my sidebar. See [THIS PAGE] for more information. There are going to be TWO sizes available next month!