1. We went to the Houston Museum of Natural Science in Sugar Land. This kid loved it. It's not so small that you'd get bored, but not so big that you'd get lost.
2.
Lace Love
was printed and released! Yay!
3. My littlest and I went to a baby shower to celebrate the impending arrival of my cousin's sweet baby boy. We are all so, so, so anxious to meet him! 2012 will bring newborn snuggles. I can hardly wait!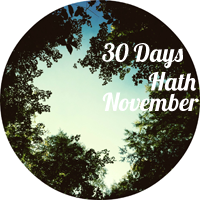 The end! Can you believe tomorrow is December? If you're looking for a last minute sponsor spot, check out THIS PAGE. We averaged over 2,500 page-views per day in November. Spectacular! I'll be debuting a new blog design tomorrow, too.