I should probably stop calling him my baby. He's the youngest, though, so he might be stuck with the "baby" nickname for all eternity. Or until I'm brave enough to get pregnant again (oh, the VOMIT!).
He's growing up fast! Because I knew he'd hate the long drive and then the long ceremony, I timidly suggested he stay with grandma while I went out of town. Afterall, daddy was going to take Nathan to his first baseball game and I knew Andy wouldn't really like that.
It took a bit, but we solidified our plans and I kissed his sleeping face goodbye, early Saturday morning. Later that afternoon, he got dropped off at grandma's.
And we never heard from him again.
I KID! To my complete and utter surprise, he did wonderfully! Nary a fuss! In fact, when we went over early Sunday afternoon, he was happily riding a bike in the driveway. I asked if he wanted to go and he kinda pulled back. As if to say, "no way, Jose. I'm at Grandma's!" Alas, we had plans to go to Grandpa's, so we had to head out pronto. With promises of a prompt return, I buckled him up and off we went for a few hours.
I'll have you note, it was now over 24 hours since he last nursed! Pretty amazing. We spent a few hours at Jason's dad's, where I smelled a magnolia for the first time.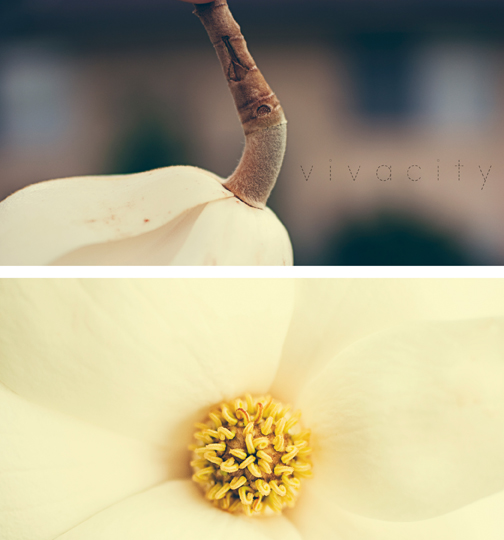 [1] & [2]
My father-in-law got a ladder out and plucked this from his tree. It smelled amazing! A clean, lemony, floral scent.
We headed back to grandma's in the early evening. We had dinner, opened gifts, played, etc.
It was a pretty swell weekend.