Like I mentioned at the end of last week, my cousin graduated this weekend and my mom and I took a little (~3 hours) road trip from Houston to San Antonio to celebrate.
I kissed my boys goodbye early Saturday and we headed out. The ride there was pretty uneventful. We just ran into some traffic in San Antonio because we exited a bit early. We still got there with plenty of time to get dressed up and head to the arena for a good seat. The ceremony wasn't nearly as boring as I was expecting it to be. The class was a decent size and the speeches were inspiring.
Spot the graduate! Ha! (Get it? They're all graduates? I only care about one, though.) Sorry, Amanda, but you looked bored throughout the whole ceremony. I SO saw you texting!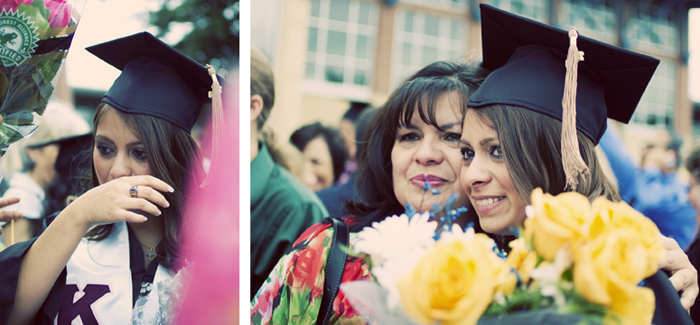 She said she made it tear-free throughout the whole shebang, but had to let them flow when she saw her mom's. They were happy tears. We were all super happy and proud. We wouldn't have driven 200 miles, early on a Saturday morning, if we weren't. In four years, we'll most likely have to do it again for this girl:
She graduates high school in a few weeks and will be attending St. Mary's in the fall. Huzzah!
AND NOW THE HORROR!
Around 9 pm, about 100 miles outside of Houston, my mom and I pass by a stalled car and I whisper, "that sucks.." My mom agrees with an "mhmmmm…" and literally 2 seconds later, we hear a thump and feel the vibrations of our brand new flat tire. Sigh. I'm a big fat jinx. This is where I whine about not having any money in hopes that I jinx myself and get lots more! yeah! Right.
Anyway, we call my aunt (mama to the graduate) and her (and her family! with males!) are about an hour behind us. We wait there in the dark that hour. See, I have no idea how to change a tire. I would have attempted it, but it was really damn dark! There was tall grass and trees not too far off the road. I think I've seen too many versions of The Texas Chainsaw Massacre to self-learn tire-changing in the middle of the night on a stretch of dark Texas highway. The guys had it changed up in like 5 minutes and we were off on our donut. We had to drive the speed limit the rest of the way and we didn't get home until after 11pm. It was kind of terrible.
I'll blog later about how my BABY spent the night without me! I'll just say he did fabulously! Made this mama proud. I get to scratch off TWO things from my 25 before 26 list, #7 & #23.
I hope everyone had a great weekend, especially you amazing mamas!