I have been knitting since 2006. Almost eight whole years! I gave it a shot after crocheting for about 6 months and fell in love. Actually, that's a lie. I hated knitting. It took me three tries and mostly because the book I was using only demonstrated the English style and my brain just did not understand what to do with yarn in my right hand. I was so used to holding the yarn over my left hand and working the hook with my right. When I found videos of Continental knitting, I had that "aha!" moment and things went more smoothly.
I've given English knitting a try here and there through the years. I knew it would make fair isle and colorwork easier if I could hold yarn in both hands. It never really stuck, though. I always went back to Continental, even during stranded knitting projects.
Well, a few weeks ago, I bought some Létt-Lopi to feel it out for a future sweater and to see the colors in person. I couldn't wait and decided to draft up a colorwork pattern for the yarn.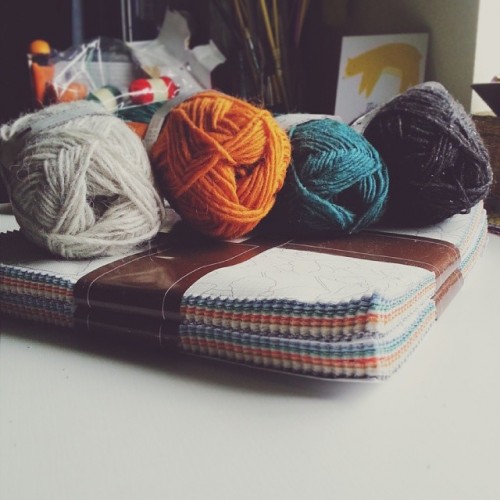 After a bunch of drafts that included sharpies, fine felt tip pens, and eventually a spreadsheet, I got to work on a beanie! I knew from the get go I would need to practice my English knitting and worked every other round of the rib like that. It was a chore, but eventually my right hand seemed to "wake up" and get it. It felt less and less awkward as the rounds went by. Soon, I was breezing through my charts! The first wasn't a very intuitive color pattern, but once I started feeling antsy and/or bored with it, it was time to move on!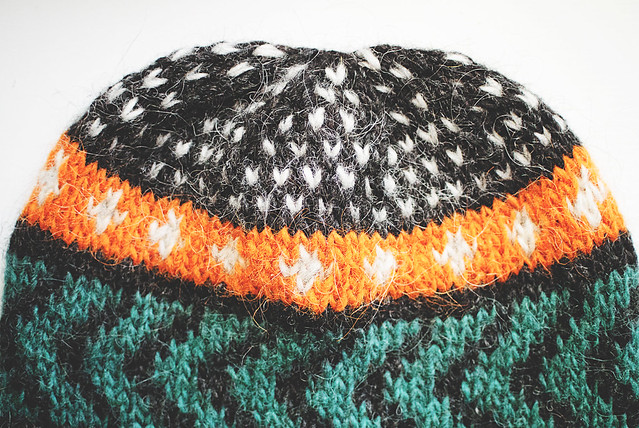 I'm calling it my "This and That" beanie because it's got a little bit of this and a little bit of that. I love love love the sprinkling of contrast stitches in the crown. I did the same thing with some colorwork beanies I made a few years ago. Those beanies took days to create and the one in this post took two measly evenings! I'm pretty happy with that.
Are you working on any new skills? This one seems kind of simple, as English knitting is often how knitters start, but for me, it was a milestone! I feel like I could knit a fair isle sweater or something!
Pin It