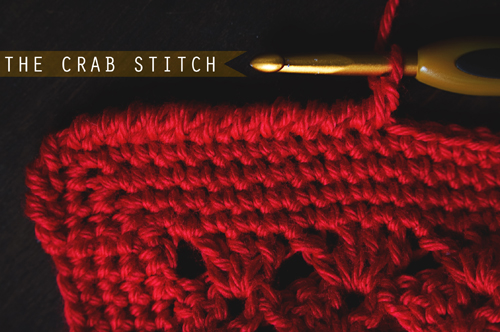 My favorite border/edge is the Crab stitch (AKA reverse single crochet). It's super easy and provides a nice neat border for your projects. I'm currently using it on Big Red. Yep, that's right. I am on the border! After 4 rows of single crochet, I am crabbing it up.
1. How my work looks after my last round of single crochet + 1 ch.
2. Insert hook in stitch immediately to the RIGHT and pull yarn through (2 loops on hook).
3. Pull yarn through both loops.
4. Repeat 2-3.
After a few stitches, you should have a beautiful border going. I'll be working on my edging this evening. I started it and then realized I should share it for the folks who are looking for a nice, simple border for their work. I'll share photos of the finished blanket tomorrow. It's sososo lovely! I am head over heels for RED.
What is/are your favorite border(s)/edging(s)??
Pin It