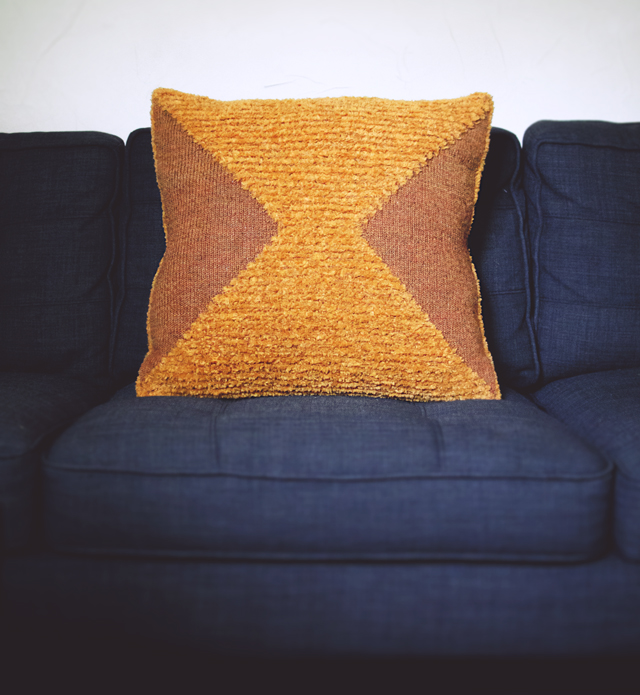 Hey, friends! I was sick for a whole 5 days and didn't touch my needles. I decided I should probably compose a post about a pillow I knit early this year. I don't have a pattern written up because I don't really think anyone wants to knit one, but perhaps you might like the idea of using two gauges at once and YOU want to experiment, too? Anyway…
Way, waaaay back in February, I started knitting a pillow with Lion Brand's Luxe Fur Yarn
. It was on super sale at Michael's and so so soft, I picked up like 10 balls and was determined to knit something…ANYTHING with it. Maybe a teddy bear?!
I knew that it would be a little tricky to knit with yarn that had so much texture, so I paired it with a regular worsted weight yarn in a similar tone. That just so happened to be Berroco's Ultra Alpaca. I started knitting a gauge swatch and wondered what it would look like if I dropped the fur and worked stripes without it. I knew I'd need to use a smaller needle, so I switched right there. I made a little swatch with furry stripes and knew I was on to something.
What proceeded was a marathon knitting session where I jotted down notes on notes of measurements and calculated possible patterns. I realized that one stitch with both yarns (and the larger needle) was close enough to two stitches with just my lighter yarn (and smaller needle). Using a series of short rows, I was able to create the front of the pillow you see above in one single piece. The blocking I did afterwards was minimal, too. I didn't have much to do once I finished.
Yarns: Lion Brand Luxe Fur (about 6 skeins) and Berroco Ultra Alpaca (2 skeins)
Needles: 6.5 mm (US 10.5) and 3.75 mm (US 5) 29″ circular needles (you'll be using both at the same time)
Gauges: (both yarns, bigger needle) 16 sts x 28 rows = 6″ x 6″ in garter stitch
(lighter yarn, smaller needle) 11 sts x 15 rows = 2″ x 2″ in stockinette stitch
I started by casting on 50 stitches with both yarns and the bigger needle. I knit one row, then started my work with both needles and gauges. When I was using the smaller needle, I knit with only the ultra alpaca. When I switched back to the larger needle, I picked up the Luxe Fur.
Row 2 looked something like this: With smaller needle, kfb, switch to larger needle and both yarns, K 48, switch to smaller needle, kfb, turn. [What I ended up with is 4 stitches on the smaller needle and 48 stitches left on the bigger needle]
Still using smaller needle, Rows 3 and 4 were my short rows. For Row 3, I slipped the edge stitch, purled the next stitch, wrapped the next stitch and turned. Row 4, I knit the two stitches, then turned.
Row 5 went right across. When I came to a wrapped stitch, I just picked the wrap up and knit it with the stitch. I started with the smaller needle and slipped 1, P 1, switch needles and K 48, switch needles and P 2, turn. The furry part of the pillow is in garter stitch while the other is in stockinette.
Rows 6 and 7 were short rows like 3 and 4. Row 6: slip 1, K 1, wrap and turn. Row 7: P 2, turn.
Row 8 and every 6th row from here on out, I increased the number of stockinette stitches by knitting in the front and back of the edge fur stitches with the smaller needle. I ended up with 4 rows of stockinette in the lighter yarn equaling 2 rows of garter stitch in the heavier weight. It certainly wasn't a perfect match, but it worked! I increased the stockinette portion until I only had 10 stitches left in the original gauge on the larger needle and 80 stitches on the smaller needle (40 on each side).
At this point, I started the same sort of pattern, but instead of increasing the stockinette portion, I decreased by using my larger needle and both yarns. Basically, I would use the larger needle and both yarns to turn two stockinette stitches into one on either side of my fuzzy center. Once I got back to 50 stitches on my larger needle, I had about as close to a square as I would get.
It was actually a rather simple pattern, but the result looks rather impressive, if I may say so.
The back of the pillow is two fuzzy panels with twisted rib in the smaller gauge. It was meant to be an envelope design, but I stuffed a 24″ pillow and it gaped too much, so I attached a zipper along the edge of one side and along the furry edge of the other.
Do you ever get the desire to experiment with knitting like this? I can say this is the first time for me. I don't know if I'll make anything similar. This pillow is enormous, so maybe one day I'll knit a smaller one to compliment it. I DO like knitting with yarns I don't normally have in rotation. That's why I'm currently in a big chunky yarn fit. I have knit no less than 5 cowls for Christmas. This entire week I've been sick, all I wanted to do was knit, but coughing and knitting equals gross.
Pin It