Disclosure: Amazon affiliate links used within this post. They help buy yarn.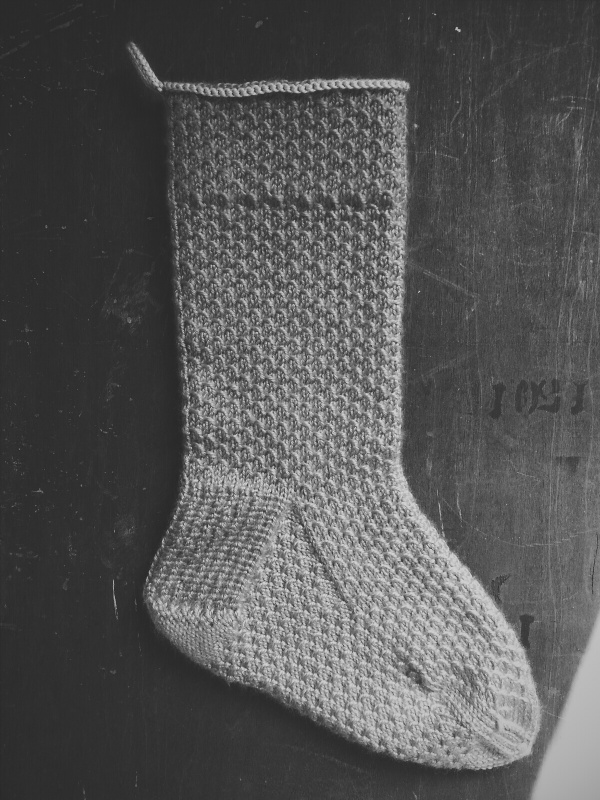 Pattern: Heirloom Christmas Stocking from the purl bee
Yarn: 1 skein of Yarn Bee's Soft Secret in hot pink
Needles: 3.5 mm (US 4) & 4.5 mm (US 6) 16″ circulars + DPNs in the smaller size
Modifications: I went down in needle size and also made the leg shorter.
I fell in love with this stocking pattern the day it came up in my blog reader. The Purl Bee did it again! I cast on right away. I had (have!) other projects, so I tried to work on this primarily in the evenings. It took me a few weeks, but I think it was worth it. I took the photo above with my phone and since the yarn is HOT PINK, it photographed horribly. Hence, the b&w photo filter. Thank goodness for VSCO cam, right?!
What do you think Santa will leave in my stocking? I've been dropping hints left and right to my husband and I guess we'll see in a few weeks if he's taken note. To be honest, if my stocking is empty I'll still be happy just to look at it. Here are some more ideas, though–

I need a new copy of Elizabeth Zimmermann's Knitter's Almanac
, as mine is almost falling apart. I love that book! I read a few chapters, the other evening, and it really made me miss blogging about knitting. // I can always use Moleskine Cahier Journals
for jotting down ideas or new patterns. I think I have one in every room of my house. You never know when inspiration will strike! // Pens and pencils! Never enough. Ever. // Little finishing tools. These are my new favorite scissors. They're so handy! And pretty. // Pretty much any accessories for my Nikon 1
. This little camera goes with me everywhere! It's awesome. Perhaps a pocket reflector? Hmmmm!
What do YOU want for Christmas?
Pin It