Almost a year ago, I was asked to contribute two patterns to a new book that would combine therapeutic exercises with complementary crochet projects. The idea was literally crochet as therapy. I thought this was a wonderful idea and I couldn't be more happier with the end result. This beautiful book arrived a few weeks ago and was released in the US, a few days ago.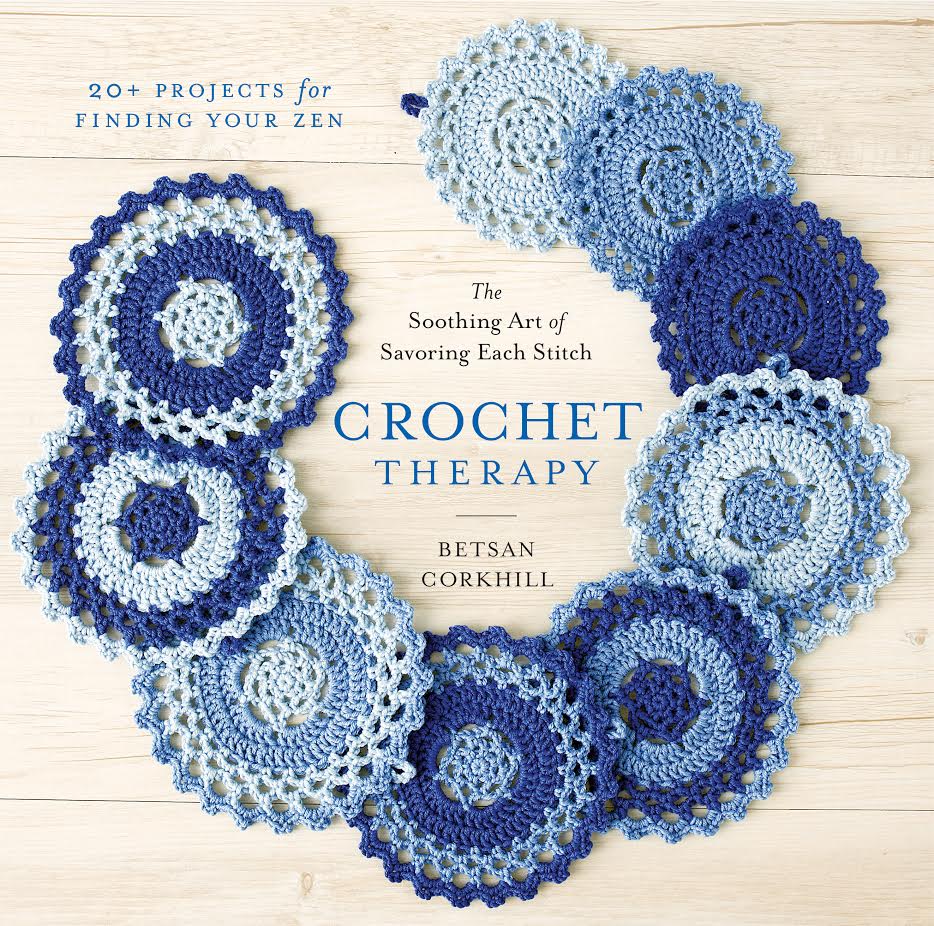 Behold, Crochet Therapy by Betsan Corkhill. First off all, let me brag a little: the mandalas on the cover are my project. I actually crocheted each of those! The photography and styling in this book is phenomenal. Every scene is light, calming, and downright gorgeous. All of the projects compliment each other so well.
This photo is opposite the introduction page.
Let's get down to the book itself. Betsan Corkhill is a well-being expert with a background in physiotherapy. She combines her medical knowledge with her craftiness and is a champion of the use of fiber arts as a therapeutic tool. The book is comprised of ten exercises, each accompanied by two crochet projects to enhance the benefits for your well-being. The exercises incorporate mindfulness, visualization, relaxation, daydreaming, and motivation. You can start from the beginning, or choose which you need specific help with. Why does crochet (and knitting!) work so well at creating a healthier, calmer, more creative mind?
It's known that two-handed, coordinated patterns of movement that cross the midline of the body take up a lot of brain capacity. The brain can't fully focus on two things at a time, so the more absorbing the task, the less capacity it has to pay attention to issues that are detrimental to your well-being.
Crafing will help take your mind off things that are making you anxious, or stressed out in general. I think we can all use a little bit less stress and anxiety, don't you think?
My two projects, the mandalas (seen best on the cover) and a round pillow, are part of the "Calm" chapter. The mandalas are a simple 9-round pattern that is easily memorized. You can take your hook and a bit of your yarn in your bag to crochet one whenever you find yourself in need of a calm few minutes. The pillow emulates rippling water. It's a simple round construction with a few three-dimensional rounds (like ripples!). It's crocheted in bulky yarn (I used Lion Brand's Wool-Ease Thick & Quick) and works up very fast. It would make a fantastic calming housewarming gift.
Some of my other favorite projects in the book:

I'm swooning over that puff flower quilt!
Overall, I really love Crochet Therapy. It's a book for every level of crochet, beginner to expert. Even the most seasoned crocheter will get something out of it. I always knew crochet was something to do when I needed to destress and focus, but now I have something I can utilize to help me gain even more benefits from the craft. I highly recommend the book to anyone who would like to learn about how crafting in general can help you be more mindful in your everyday life.
GIVEAWAY
I have an extra copy from the publisher and would LOVE to give it away! Enter with the widget below and a winner will be chosen late Friday night.
a Rafflecopter giveaway
Pin It