A Good Yarn is a sweet fiber arts store in Sarasota, Florida. Last year, they launched an easy-to-use online shop, where you can browse all of their products, from yarns to notions, kits, and my favorite…exclusive colorways!
When I was contacted to review one of the exclusive colorways, I was pretty thrilled. I chose the "Butterfly" colorway, which is one from their Purl Diver Collection. It is inspired by a beautiful photo of a Pyramid Butterfly Fish that was taken in the Soloman Islands. The gold, grays, and black were striking and caught my eye immediately.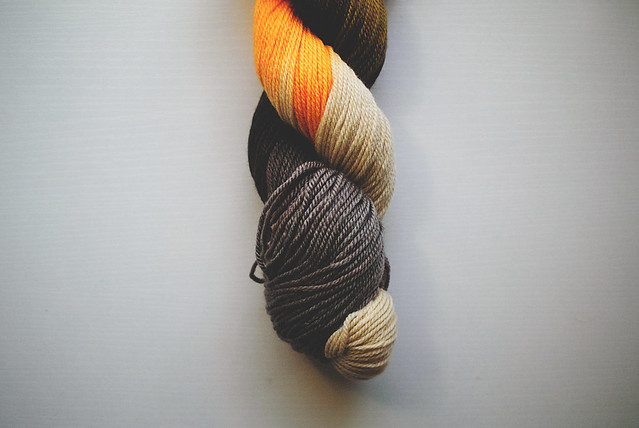 The base yarn is Lorna's Laces Sportmate. A very squishy sport-weight yarn made of 70% merino and 30% viscose.
Unfortunately, I received this right before that extremely busy time of year that holds holidays, sickness, and more holidays, so it stayed untouched for a while. After most of that excitement of November and December died down, I wound the skein into a ball and went on a Ravelry hunt for the perfect pattern.
I wanted a pattern that would showcase color above all else. I loved the way all the colors looked together! I found the Downtown Cowl and cast on December 30. [US 6 29″ circular needle]
I needed a project for to knit while I sat in a waiting room at the hospital. December 31, my mom had to have a stent placed in her carotid artery, so I anxiously knit the time away. I needed something to keep my mind off what was going on behind closed doors; something to control when I felt so out of control. This was perfect.
Obviously, it knit up beautifully! The colors all mixed into each other in the best possible ways. The length is perfect for wrapping twice around my neck, or three times if it's a particularly chilly day. The yarn was dyed spectacularly, too. There was hardly any runoff when I rinsed it before blocking. By the way, how in the world do YOU block circle scarves? This one was hard! Thank goodness lace is so forgiving.
The color perfectly coordinates with my gray coat. The golds and white really pop against the black/gray. Check out A Good Yarn and give these beautiful colorways a try!
Pin It