***The giveaway is now closed!***

If you've been reading for a while, you may have heard me mention fabric tape once or twice. After nearly breaking the bank (or paypal) buying pretty Japanese washi tape, I decided I needed to cool it and DIY it a bit. Enter this tutorial and the absolutely amazing Xyron150
into my life. MAN ALIVE, I WAS HOOKED!
I have used fabric tape on packages in the mail, on greeting cards, on postcards, on invitations, on pretty much everything I make that requires some adhesive or would benefit from some pretty.
The other day, I was writing in a composition notebook (you know, the kind of ugly marbled Mead ones) and it could REALLY use some prettifying. SO..out came the sticker maker and fabric.
I like to tear my fabric. It makes the strips straight and it's just easier to me. You can certainly cut them if you'd like. I ran the 1.5″-ish strips through my Xyron 150 and out came beautiful strips of fabric tape ready for my notebook. I applied them horizontally from one edge, around the binding, to the other edge. It worked out beautifully!
The giveaway I have here for you guys is for a Pink Ribbon Xyron 150! I'll include 2 extra cartridges (total of 3 = 60ft of adhesive!), so you can make as much fabric tape or stickers as your heart desires! I've been using mine since last year and let's just say I now know to keep extra refills around because you can definitely get a little carried away turning everything into a sticker. :)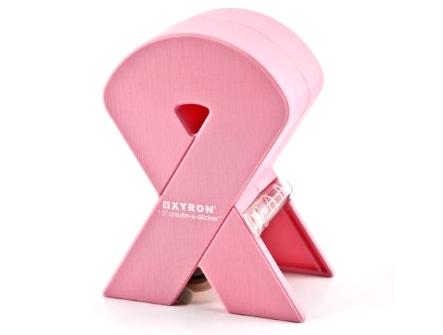 To enter, become a follower of the blog (left sidebar) and leave a comment telling me your favorite color!
For extra entries (leave a separate comment for each):
–Tweet about it mentioning @goodknits.
–Like and mention @GoodKnits on Facebook.
–Blog about this post and link back.
Giveaway will be open until 11:59pm CST on May 19. Good luck everyone!


**I thought I should mention Xyron has no idea who I am and is not sponsoring this giveaway. I just LOVE my little machine so much and I've had inquiries about fabric tape before. I want to spread the sticker madness! I chose the Pink Ribbon sticker maker because Xyron will donate 50 cents for every unit sold to the Breast Cancer Research Foundation. If you don't win, I implore you to buy one! It's a small investment for tons of creative fun.**